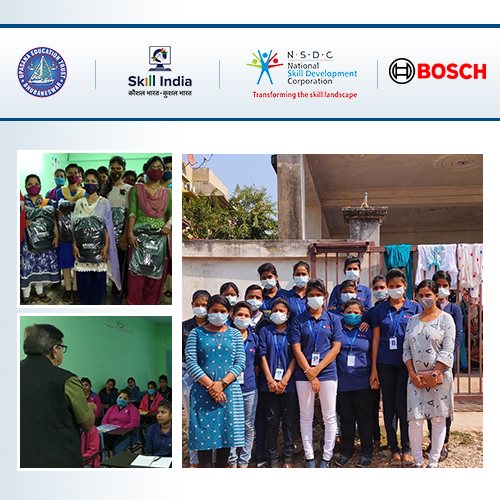 BOSCH CSR Programme
Bosch is a leading supplier of technology and services in the areas of Mobility Solutions, Industrial Technology, Consumer Goods, Energy, and Building Technology. Additionally, Bosch has in India the largest development Centre outside Germany, for end-to-end engineering and technology solutions. For over 60 years, Bosch in India has developed extensive expertise in the realm of occupational training. Since the establishment of Bosch Vocational Centre (BVC) in 1961, Bosch has successfully implemented the German 'Dual' Model of vocational training suited to Indian industry requirements.
Bosch has already trained more than 40,000 underprivileged youths in past 8 years. Under their short term flagship skilling program called BRIDGE & in view of COVID situation, an intervention was planned to create frontline Health Workers to tackle the rising demand for skilled workers during the pandemic. Considering the Pandemic the intervention included 3 months (1st Month – Online, 2nd Month – Offline & 3rd month – OJT) training to empower the beneficiaries.
Program Objectives:
Covid19 has created a Global Health Emergency. It is observed that there is a massive shortage of skilled manpower in the Healthcare sector. Considering the situation leading industry giants have come together to create a funnel of skilled manpower that would not only help our country recover from this pandemic but would also become efficient health workers and earn a respectful livelihood.
Pharmacy Assistant
General Duty Assistant
Therefore, through their CSR approach Bosch and Apollo Medskills along with the Healthcare Sector Skill Council have come together to Mobilize, Train, Certify and Place 1000 candidates throughout India.Through this approach leading Training Providers have been identified in each State to mobilize 25 candidates for training in the first batch. Upasana Education Trust has been identified as a Certified Bosch BRIDGE Training Partner in Odisha.
BOSCH Limited. Bangalore, India
Eligibility and Benefits:
It is a 3 moth Training Program where 2 months of Classroom and one month on the job training would be provided by UET. All candidates identified under this program shall be trained as per the Bosch BRIDGE Training Program and receive additional benefits through Apollo Medskills. Some of the benefits are:
The target groups for skilling are candidates in the age group 18 – 35 years from rural poor households.
Training without any payment.
Health Insurance for the entire training duration.
Complete Placement Support.
Training Kits through Bosch and Apollo
Sanitization and Health care Kits from Apollo.
Healthcare Sector Skill Certification.
Time to Time Virtual and Personal Meetings with Leading Personnel from Bosch and Apollo.
Training outcome: 75 Candidates were trained across 3 batches during 2020 and 2021. These candidates have been provided 100 % Placement across leading institutions like SUM Hospital and Blue Wheel Hospital in Bhubaneswar.
Location of Programme: Bhubaneswar