Pradhan Mantri Kaushal Vikash Yojana (PMKVY)
About the programme: Pradhan Mantri Kaushal Vikash Yojana (PMKVY), the Scheme has been implemented in FY 2015-16 under Short Term Training (STT), Recognition of Prior Learning(RPL) & Special Projects(SP). The goal for training more than 8,00,000 candidates across the nation. National Skill Development Corporation (NSDC) has been incorporated under Ministry of Skill Development & Entrepreneurship (MSDE) to provide training under STT-CSCM & CSSM to the unemployed youths of the nation.
Furthermore, PMKVY was launched to encourage and promote skill development in the country by providing free short duration skill training and incentivizing this by providing monetary rewards to youth for skill certification. The overall idea was to boost employability of youth corresponding to the industrial demand.
The scheme shall supplement the support of various schemes being run by the Central and State Governments, including but not limited to, National Apprenticeship Promotion Scheme (NAPS), MUDRA loans under Pradhan Mantri MUDRA Yojana (PMMY), Deendayal Antyodaya Yojana-National Rural Livelihoods Mission (DAY-NRLM) / Deendayal Antyodaya Yojana-National Urban Livelihoods Mission (DAY-NULM), Mahatma Gandhi National Employment Guarantee Act (MGNREGA) and other similar programs that have goals similar to PMKVY 3.0 for generation of livelihood opportunities for the candidates trained under the scheme.
Objectives of PMKVY
Create an ecosystem for the youth to make informed choices on the available skilling avenues. Provide support to youth for skill training and certification. Promote sustainable Skill Centres for greater participation of private sector. Benefit 8 lakh youth over the scheme period.
Approach to roll out of PMKVY
The basic premise for the scheme is to create skilled and certified workforce, who not only contribute towards the growth of India but also drive the country into becoming the global skills capital. To achieve this more holistically, significant core and peripheral reforms have been envisaged for the implementation approach for the scheme. With the limited window available for implementation, the focus of the scheme shall be to create detailed framework for the new provisions and pilot them for larger roll out in the second phase of the scheme.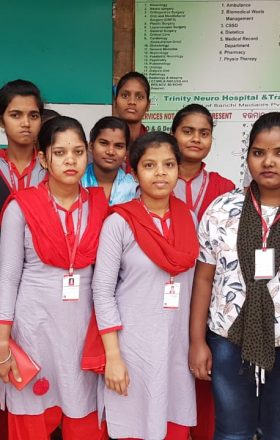 Job Role and Eligibility of Admission
Agriculture
Apparel
Automotive,
Beauty & Wellness
Construction
Domestic Workers
Electronics Hardware
Green Jobs
Healthcare
Life Science
Logistics
Media & Entertainment
Plumbing
Retail & Telecom
1
Choose the jobrole available
Find the training centre with interested jobrole
2
Admission
Counsel about the course and submit details documents
3
Training
Join the training as per schedule
4
Assessment and Certified
After completion the course attend the assessment and get certified